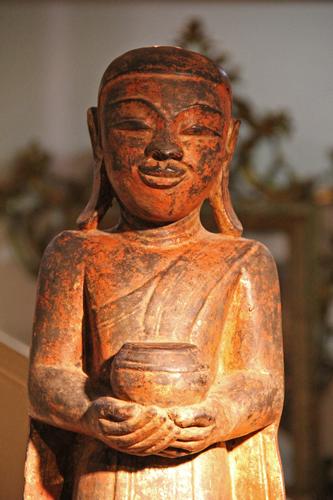 A 17th Century Giltwood and Polychrome Burmese Statue of a Monk, holding an alms bowl and standing barefoot atop a lotus representing enlightenment, the whole raised on a later custom ebonized base. The practice of collecting alms was to provide people the opportunity to show generosity; by giving alms, one gets closer to reaching nirvana. Statues of Burmese monks were used as decoration in monasteries as a source of inspiration for young monks
Provenance: from the Estate of Kenneth Smiser, San Francisco
Height (without base): 31 1/4"; Width: 9"; Depth: 6 1/4"; Base: Height: 7 1/2"; Width: 8 1/4"; Depth: 8 1/4"